For some welding technologies when changing the electrodes type provided in technical requirements it may be necessary to repeat the welder qualification test. For example, on Fig. 1 the various types of the metal coated electrodes which are grouped taking into account skill levels, required for their use are shown.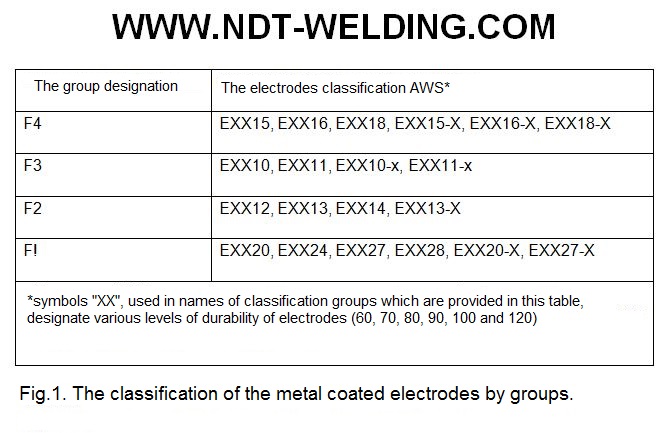 The electrodes of the F4 group are considered the most difficult in use, similarly; the F1 group includes those types of electrodes which demand the minimum operating skills. As a rule, the certification for the group of electrodes use with the large number provides the automatic welder qualification test for work with any electrodes from group with the smaller number. Thus, the test according to the program of the qualification test which is carried out with the electrode E7018 application relating to the F4 group provides the welder qualification test for all listed types of the coated electrodes from carbonaceous steel.
The main parameter of the welder qualification test also includes the specific methods for performing welding. The change of such parameters as the direction of welding at vertical position (i.e. welding from down to top or from top to down) will demand carrying out additional tests according to the program of the qualification test. The other standard parameters relating to welding performance methods can include changes in technological operations, changes of situation, type of the main metal, thickness of the main metal and diameter of pipes.
After the choice of the appropriate control sample, the situation and the method for ensuring the full qualification test, according to applicable technology the control seam is carried out. For check of respect for technology, and also for abilities assessment of the welder, the observation of welding process can be entrusted to the welding inspector. It is necessary to show the special attention to methods which the welder uses, and also the welder ability to perform the work as at the same time the habits leading to performance of welded seams of unacceptable quality can be revealed.