The cold crack (chipping off) is the most frequent defect of fusion zone during fusion, which is located in certain distance from the fusion surface. The temperature conditions of these cracks formation and character of their development gives basis to connect the process of their formation with delayed fracture phenomenon.
When developing method of evaluation of susceptibility to chipping off formation of fused metal you need to take into consideration next factors.
Firstly, for receiving quantity characteristic of fusion zone durability it is necessary to test 15-20 samples of one fused metal. This implies requirements for simplicity, efficiency and low specific quantity of metal methods.
Secondly, surfacing alloys usually have extremely low plasticity and susceptibility to alligatoring formation in fused alloy, which imposes limitation on choice of samples form, fusion process and loading conditions.
Thirdly, it is necessary to provide proximity of thermal-deformational cycles for fusion zones for achieving identity of conditions for energy drains formation in fusion zones of laboratory samples and real components. On this basis and basing on assumption, that first type residual stresses, as an energy source for hot cracks origination and development, one can model constant external strains by applying bounded sizes to fused sample (directly after fusion), the method of quantitative evaluation of fused alloys susceptibility to chipping off formation was developed. This method is concluded in next: sample, consisting of fillet 2 (fig. 1) with 12 mm diameter aperture and massive bar 1,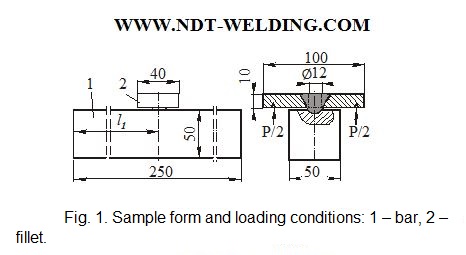 are connected in that way, that the 1mm gap existed between fillet and bar. Bar 1 imitates fused component is produced from steel, which is fused.
Fillet 2 can be produced from any steel. After assemblage the aperture is sealed by corresponding electrode. Since the fillet in initial moment is insulated from bar, the arc is activated between electrode and base metal. It fuses base metal on certain depth. Considering small relation between volume of fused metal and sample volume and short-term action of heat source, the thermal cycle of fusion zone differs by significant cooling rates, compared to real one.